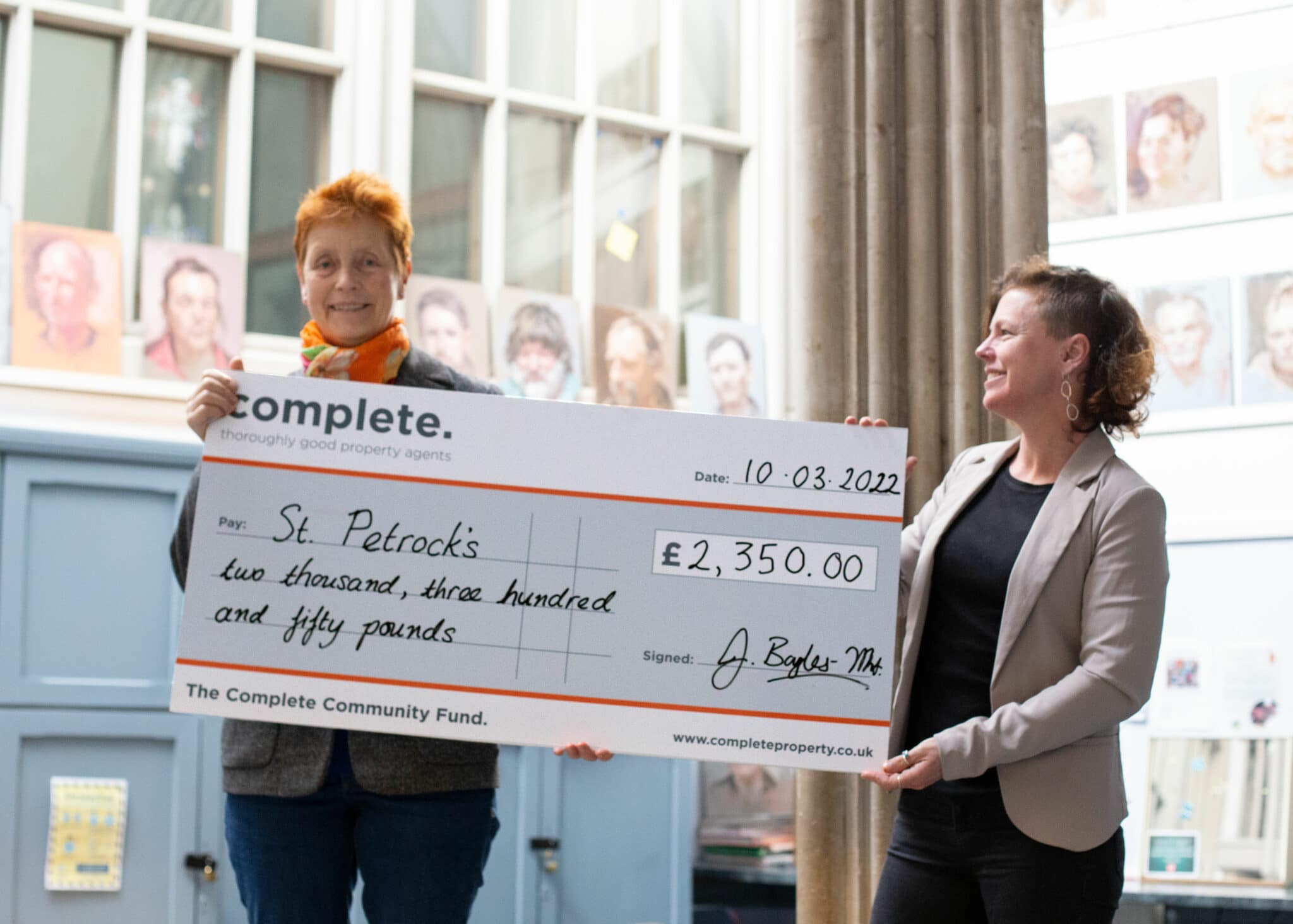 Exeter based St Petrock's has received a boost to their funding with local estate agents Complete Property donating £2,350 to the organisation.
In addition to this substantial sum, the agent installed collection boxes in all of their branches across South Devon throughout the Winter months in order to collect donations of sleeping bags, clothing, roll mats and more to be given to those in need.
"As a local business operating within the housing sector, we wanted to support a charity that was not only close to our hearts but also within our community. The work that St Petrock's do to help those in need  across Exeter and beyond is phenomenal and we are glad to be able to support their work however we can." – Jade Boyles-White, Managing Director, Complete Property
Marketing Manager of Complete Property Abi Rangecroft recently met with St Petrock's Lucy Patrick at their headquarters in Exeter city centre to drop off donations and hand over the monies raised.
"St Petrock's is very grateful indeed to Complete Property for having recently raised an amazing £2,350 for us. This will ensure that our Survival Services that provide hot food, drink and clothing on a daily basis to local rough-sleepers continue to operate throughout the year. The donated items such as roll mats and sleeping bags have been very useful to help keep our clients warm and safe. Many thanks to all the staff and customers of Complete Property for helping us support these vulnerable people." – Peter Stephenson, Director, St Petrock's
With the cost of living in the UK rising sharply, it is thought that the number of people experiencing the worst forms of homelessness could rise substantially this year compared to pre-pandemic levels. Organisations such as St Petrock's continue to play a pivotal role in supporting those in need across Devon.
Charity Crisis has further emphasised this need, highlighting a "substantial risk" that the number of people experiencing sofa surfing or rough sleeping could rise by 33 per cent by 2024, according to their annual Homelessness Monitor snapshot.
Charities such as St Petrock's rely on support from individuals and businesses in their local community in order to operate. To find out what you can do to help, visit http://stpetrocks.org.uk/. To learn more about what estate agents Complete Property's Community fund is doing in the area, visit https://www.completeproperty.co.uk/.