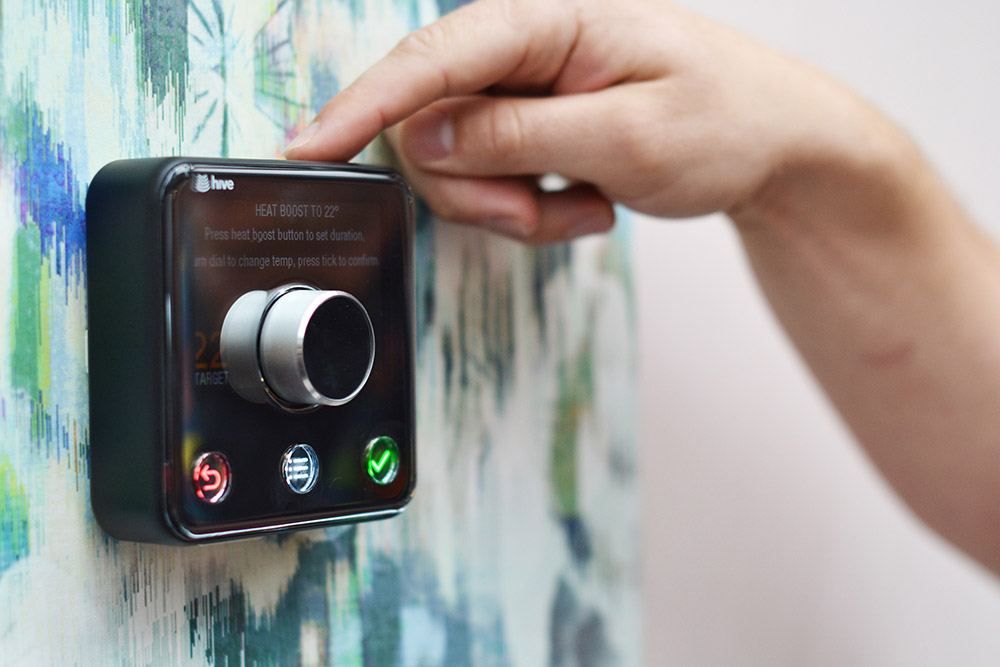 It seems there is an unstoppable wave of new gadgets and gizmos being introduced in to our homes. From pet cameras that enable you to watch your dog at home from your office desk to being able to turn your heating on with one click of an App, smart technology is now widely available and perhaps not as expensive as you might think. In fact, it might even save you money in the long term.
But, when the novelty fades, what smart tech will genuinely change the way we live in and use our homes and what can we expect from the future of home building? We're delving deeper to find out more about arguably one of the more popular household names in smart home products- Hive.
Hive is synonymous with smart heating systems, but did you know that Hive now offer a growing collection of products in addition to their smart heating system including lighting, sensors, cameras, plugs and more? Hive describe their products as a 'family of home services and smart products designed to help you make the most of life.' They say their growing collection makes daily living a little easier, adapting to your lifestyle so you always have time for the things you love most.
Their primary product is the smart thermostat that lets you control your heating and hot water from your smartphone, tablet or laptop. So, whether you're at work, on the bus or in the pub, the Hive app lets you change the temperature of your home in just a few taps. Perhaps one of its most attractive features is the claim to save you money on your energy bills. British Gas claims you could save up to £130 a year on your energy bills by never having to heat an empty home.
Hive is available to retrospectively fit as an add on to several existing heating systems and there are a handful of new homes developers who are already embracing this technology to future-proof the homes they build and improve energy efficiency. Devonshire Homes, a local independent house builder based in Tiverton, have chosen to fit every one of the new homes they build throughout the South West with a Hive system included as standard.
Jane Peace, Sales and Marketing Director at Devonshire Homes explains why they've made the forward-thinking decision.
"At Devonshire Homes, we like to embrace the new technology that emerges onto the market so we can create beautiful new homes that suit modern day living" said Jane. "Hive is an excellent addition to the home. Not only does it allow you to have complete control over the temperature of your home, it can also save you money on your energy bills. Never again will home owners waste energy by accidentally leaving their lights on or forgetting to turn off the heating before they go to work as Hive gives you complete control of your home wherever you are. We are constantly looking for new ways in which we can enhance the design of our new homes and Hive is an excellent step forward."
Devonshire Homes are offering free demonstrations of the Hive system at any of their show homes throughout the South West, to show each of the features and explain more about how Hive can be adapted to suit your lifestyle. The closest Show Home to Complete is located at The Tors in Bovey Tracey where there is a selection of 2, 3, 4 and 5 bedroom homes available to buy. To find out more about The Tors, or to arrange a Hive demo please contact Complete on 01626 832063 or newhomes@compeleteproperty.co.uk