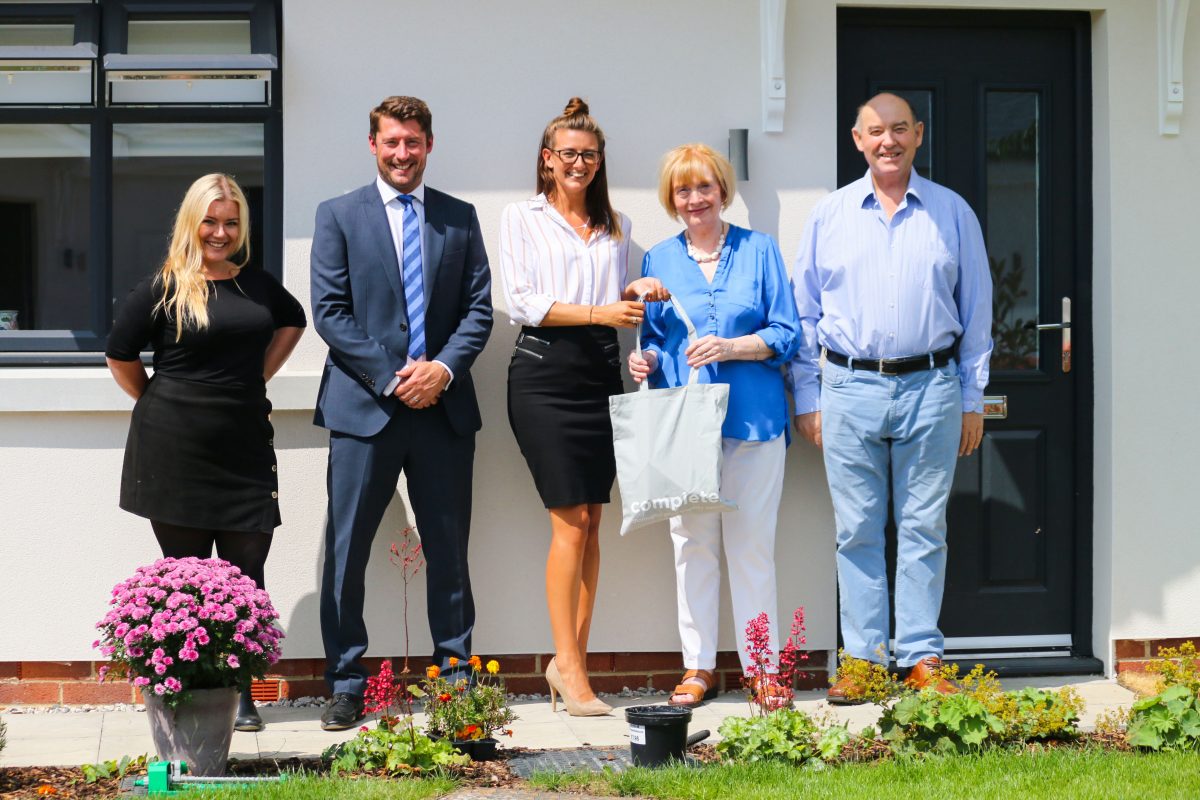 Buttercup Meadows, the charming new development from bunnyhomes, has seen its first residents hop over the threshold…
Sean and Mary Hood moved into their new bungalow on 22nd June, after becoming smitten at the show home launch in April. Mary says: "When we first saw the development at the open day, it took our breath away. What initially wowed us was that it had a unique outlook with panoramic views – you can see the moors beyond. And then, when we looked around the show home itself we could see that it had been finished to such a high standard, and that there was so much light and space."
The high spec finish is just one of the characteristics that makes each and every bunnyhome special, and it explains why 30% of the development is already sold, with new releases coming in September.
Sean and Mary's bungalow is typical of all the bunnyhomes in this new Bovey Tracey community, and is fitted with a Symphony kitchen and Roca bathrooms with downlighting and Porcelanosa tiles, a combination of hard and soft flooring, electric garage doors, a turfed garden… the list goes on. "It's the little things that really make the difference," says Mary. "For instance, the TV aerial is already installed and ready to go, there's plenty of room for storage, and the patio is even laid for you!"
Complete Estate Agents' Lucy Barrett explains more: "Sean and Mary weren't originally in the market for a new home, and it's true that some new-builds can sometimes be a little bit unimaginative. But the bunnyhomes approach is completely different. Everything is thoughtfully done and they're really flexible about things such as the colours of the flooring or the walls. If you want something different to what they're suggesting, they will do their very best to accommodate you.
"Plus, what also helps is that everything in the property comes as standard, so you don't pay for things like tiling or USB charging sockets, which you would do elsewhere."
The development itself is a unique collection of 10 beautifully-designed bungalows and semi-detached homes on the edge of Dartmoor in a calm and quiet area that's just a short walk from the town centre. The homes have been designed to foster a sense of community and belonging, and include 3-bedroom bungalows with master en-suite and garage, 2-bedroom bungalows with master en-suite, and a 3-bedroom semi-detached house with driveway and dedicated parking.
For Mary and Sean, buying their dream retirement home has been a breeze. "From the meetings we've had with the bunnyhome directors to go over the plans, to when we sat down with them to choose finishes and colours, nothing has been too much trouble. In fact, one of the owners of the company even popped in and said hello after we moved in!"
And while the Hoods are clearly delighted with their new purchase, bunnyhomes' Sales & Marketing Director Rachel Menear shares their excitement. "We're thrilled to see Mary and Sean move into their home, which is our first sale in Bovey Tracey. As a company, we put a lot of thought, effort and love into the properties we build and that's because we know just how much it means to people.
"We want our bunnyhomers to create wonderful memories here in Buttercup Meadows – and with new properties due to be released in September, we're looking forward to welcoming in Mary and Sean's new neighbours!"